Teapot refiners to spread wings abroad
Shandong-based refiner makes first move with Shell Malaysia acquisition
Teapot refiners from Shandong province are accelerating their global moves to cash in on business opportunities arising from low crude prices.
Shandong Hengyuan Petrochemical Co Ltd, a private refiner headquartered in Linyi, Shandong, has got approval from local authorities to invest $130 million for the acquisition of Shell Refining Company of Malaysia.
The deal will be the first outbound acquisition by the teapot refiners from Shandong.
Teapot refiners are independently run firms with relatively small capacities, ranging from 20,000 barrels per day to 100,000 barrels per day.
Wang Youde, general manager of Hengyuan Petrochemical, said in a recent interview that a large number of private refiners were eager to gain overseas resources, but they were not as confident as State-owned players due to the political instability in the Middle East.
Li Yan, a crude oil analyst at consultancy Shandong Longzhong Information Technology Co, said an increasing number of private refiners will go overseas once they get crude import licenses from the central government.
"The current deal with Shell Malaysia may not bring instant profits, considering the current low crude prices, but it is a step in the right direction in the long run," he said. "China's private refiners need to be more internationalized if they want to grow stronger."
China's private refiners have been facing crude shortages for years before the government decided to give crude oil import licenses to private companies that can meet the qualification standards last year.
In July 2015, the Ministry of Commerce said 32 private companies had been given fuel-oil import licenses for the first time, marking a significant step toward breaking the monopoly of State-owned oil companies such as Sinopec Group, to import crude directly.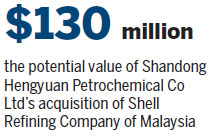 On Jan 4, it said that a second group of 15 non-State refineries had been given licenses to import fuel oil.
Shell Malaysia, established in 1960, suffered losses in 2014 when the global crude prices started to plunge. Royal Dutch Shell Plc, the parent of Shell Malaysia, did not comment on the matter when contacted.
Shen Gang, a spokesman for Shell China, said the company has a significant footprint in Malaysia comprising upstream, midstream and downstream businesses.
"We continue to have confidence in our prospects in Malaysia," he said.
In addition to the M&A strategy, China's teapot refiners are also increasing their raw material sourcing by cooperating with foreign suppliers.
Shandong Tianhong Chemical Co Ltd, a subsidiary of China Wanda Group, signed a crude supply agreement with British oil giant BP Plc's integrated supply and trading arm on Tuesday, according to Shanghai-based energy consultancy ICIS-C1 Energy.